Last Updated on September 11, 2016 by Dishan M. Francis

Azure active directory is responsible for providing identity service for Microsoft online service's needs. When I talk to people about azure AD one of most common problem they ask is what version I should buy? my existing subscription will work for the features I looking for? The myth is, lot of people still thinks azure subscriptions and prices are complicated, but if you understand what each subscription can do it's not that hard. I have seen people paying for Azure AD premium version when azure AD free version can give the features they needed for their environment and some people struggling to implement features only available for premium version using their free azure AD instance. In this blog post I am going to list down the features for each azure AD version and hope it will help you to decide the version you need for your setup.
There are 4 Azure AD editions,
1) Free
2) Basic
3) Premium P1
4) Premium P2
Free – if you subscribed to any Microsoft online service such as azure or office 365 you will get the free azure AD version. You do not need to pay for this. But it got limited features which I will explain later in this post.
Basic – Designed for task workers with cloud-first needs, this edition provides cloud centric application access and self-service identity management solutions. With the Basic edition of Azure Active Directory, you get productivity enhancing and cost reducing features like group-based access management, self-service password reset for cloud applications, and Azure Active Directory Application Proxy (to publish on-premises web applications using Azure Active Directory), all backed by an enterprise-level SLA of 99.9 percent uptime.
Premium P1 – Designed to empower organizations with more demanding identity and access management needs, Azure Active Directory Premium edition adds feature-rich enterprise-level identity management capabilities and enables hybrid users to seamlessly access on-premises and cloud capabilities. This edition includes everything you need for information worker and identity administrators in hybrid environments across application access, self-service identity and access management (IAM), identity protection and security in the cloud. It supports advanced administration and delegation resources like dynamic groups and self-service group management. It includes Microsoft Identity Manager (an on-premises identity and access management suite) and provides cloud write-back capabilities enabling solutions like self-service password reset for your on-premises users.
Premium P2 – Designed with advanced protection for all your users and administrators, this new offering includes all the capabilities in Azure AD Premium P1 as well as our new Identity Protection and Privileged Identity Management. Azure Active Directory Identity Protection leverages billions of signals to provide risk-based conditional access to your applications and critical company data. We also help you manage and protect privileged accounts with Azure Active Directory Privileged Identity Management so you can discover, restrict and monitor administrators and their access to resources and provide just-in-time access when needed.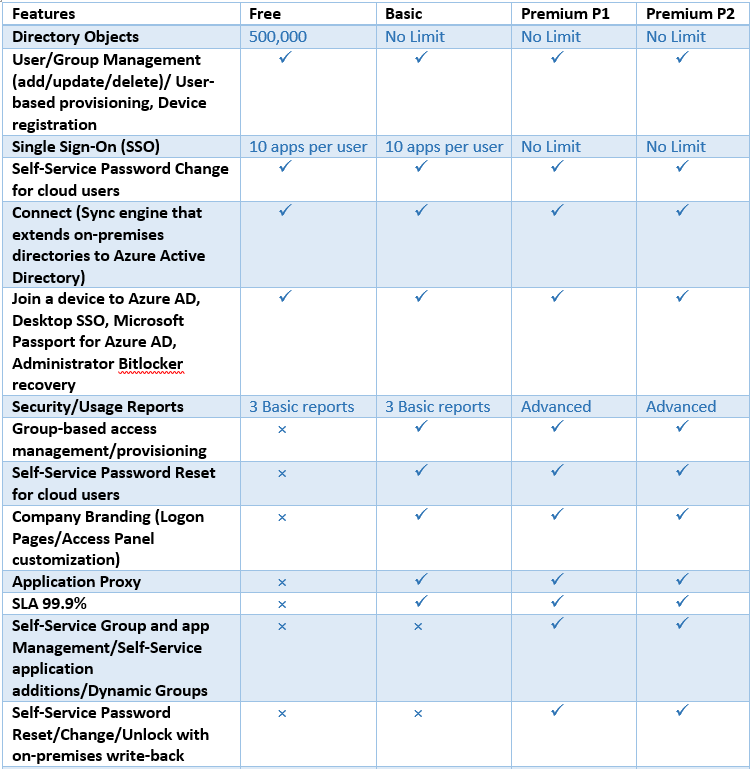 You can find more info about the subscriptions from
if you got any question feel free to contact me on rebeladm@live.com
Note : Image Source https://f.ch9.ms/thumbnail/4ac52e5b-b3ac-4fbd-bbc7-bd4bae8403da.png