Last Updated on July 16, 2018 by Dishan M. Francis
AD DS security is key for any environment as it is foundation of identity protection. Before look in to improvements of AD DS security in an environment, it is important to understand how Active Directory authentication works with Kerberos. In this post I am going to explain how AD authentication works behind the scene.
In infrastructure, there are different types of authentication protocols been used. Active Directory uses Kerberos version 5 as authentication protocol in order to provide authentication between server and client. Kerberos v5 became default authentication protocol for windows server from windows server 2003. It is an open standard and it provides interoperability with other systems which uses same standards.
Kerberos protocol is built to protect authentication between server and client in an open network where other systems also connected. The main concept behind authentication is, two parties agreed on a password (secret) and both use it to identify and verify their authenticity.

In above example, Dave and Server A have regular communications. They exchange confidential data between them more often. In order to protect this communication, they agreed on a common secret 1234 to use to verify their identities before exchange data. When Dave make initial communication, he passes his secret to server A and say "I'm Dave". Server A checks the secret to see if it's true. If its correct its identify him as Dave and allowed further communication.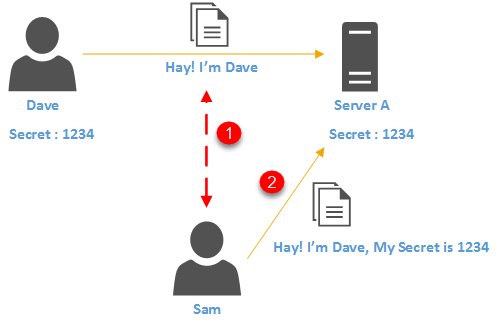 Communication between Dave and Server A, happens in open network which means there are other connected systems. Sam is a user connected in same network where dave is in. He is aware about communication between Dave and Server A. He has interest about data exchange between them and like to get his hands on those. He starts to listen to traffic between these two hosts to find out the secret they use. Once he founds it, he starts to communicate to Server A and says he is Dave and also provides the secret 1234. From Server A side, it doesn't see different between message from dave and sam now as both provides the correct secret.
Kerberos solved this challenge by using shared symmetric cryptographic key instead of the secrets. It uses same key to encryption and decryption. Kerberos name came from three headed strong dog in Greek mythology. As the three-headed dog, Kerberos protocol has three main components.
3)
A trusted authority to issue secret keys