Last Updated on November 17, 2020 by Dishan M. Francis
Azure VNET peering allows connecting virtual networks seamlessly via Azure backbone infrastructure. This is similar to inter-VLAN routing in on-premises networks. VNET peering can use to connect virtual networks in the same Azure region or different Azure regions. If it is between regions, we call it "Azure Global VNET Peering".
Global VNET Peering has following benefits,
• Low latency and high bandwidth as it uses Azure network backbone
• No requirement for encryptions, VPN gateways or public internet to connect VNETs
In this demo, I am going to demonstrate how to connect two virtual networks in two different Azure regions using Azure Global VNET peering.
For the configuration process, I will be using PowerShell. Therefore, please make sure you have an Azure PowerShell module installed. More info about it can find under https://docs.microsoft.com/en-us/powershell/azure/install-az-ps?view=azps-3.8.0
As the first part of the configuration, I am going to create two new resource groups and two virtual networks.
1. Launch PowerShell console and connect to Azure using Connect-AzAccount
2. Then create two new resource group using,
New-AzResourceGroup -Name REBELRG1 -Location "East US"
New-AzResourceGroup -Name REBELRG2 -Location "UK South"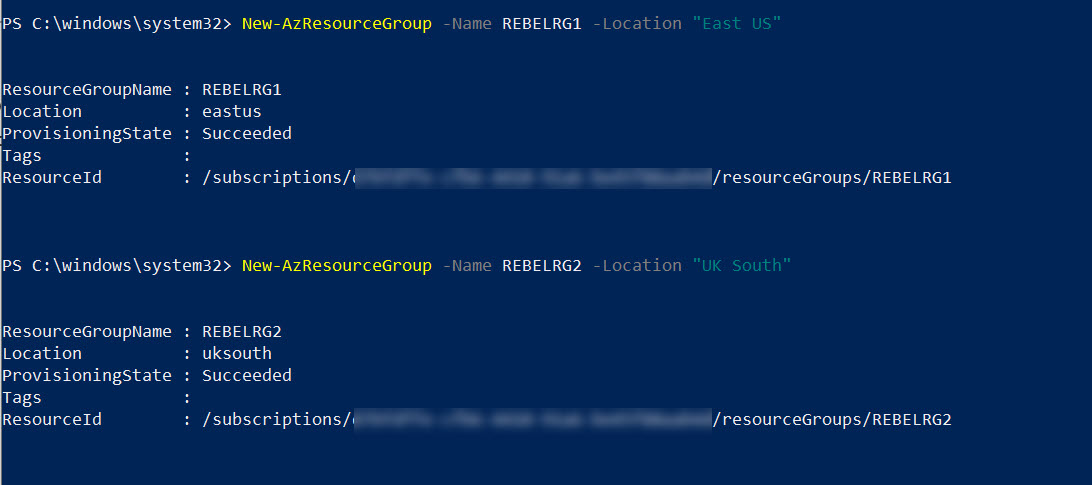 In the above, REBELRG1 & REBELRG2 are the resource group names. REBELRG1 is created in Azure East US region and REBELRG2 is created in Azure UK South region.
3. The next step is to create a new virtual network under REBELRG1 resource group.
$vmsubnet = New-AzVirtualNetworkSubnetConfig -Name vmsubnet -AddressPrefix "10.0.2.0/24"
New-AzVirtualNetwork -Name REBELVN1 -ResourceGroupName REBELRG1 -Location "East US" -AddressPrefix "10.0.0.0/16" -Subnet $vmsubnet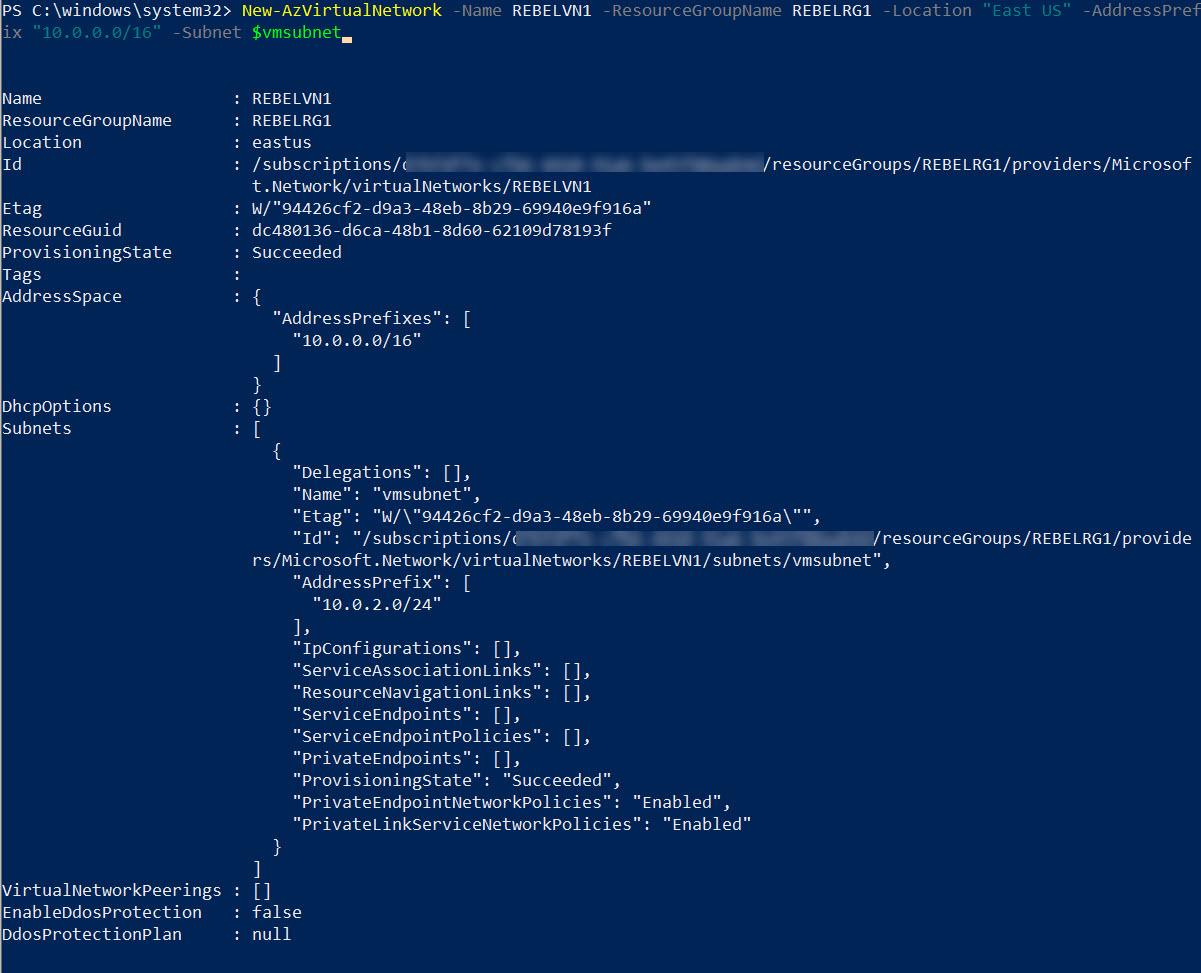 In the above, REBELVN1 is the new virtual network name. It has 10.0.0.0/16 address space. It also has a new subnet 10.0.2.0/24 (vmsubnet) for virtual machines.
4. Then let's go ahead and create another virtual network under REBELRG2 resource group. This will be in UK South Azure region.
$vmsubnet2 = New-AzVirtualNetworkSubnetConfig -Name vmsubnet2 -AddressPrefix "10.1.3.0/24"
New-AzVirtualNetwork -Name REBELVN2 -ResourceGroupName REBELRG2 -Location "UK South" -AddressPrefix "10.1.0.0/16" -Subnet $vmsubnet2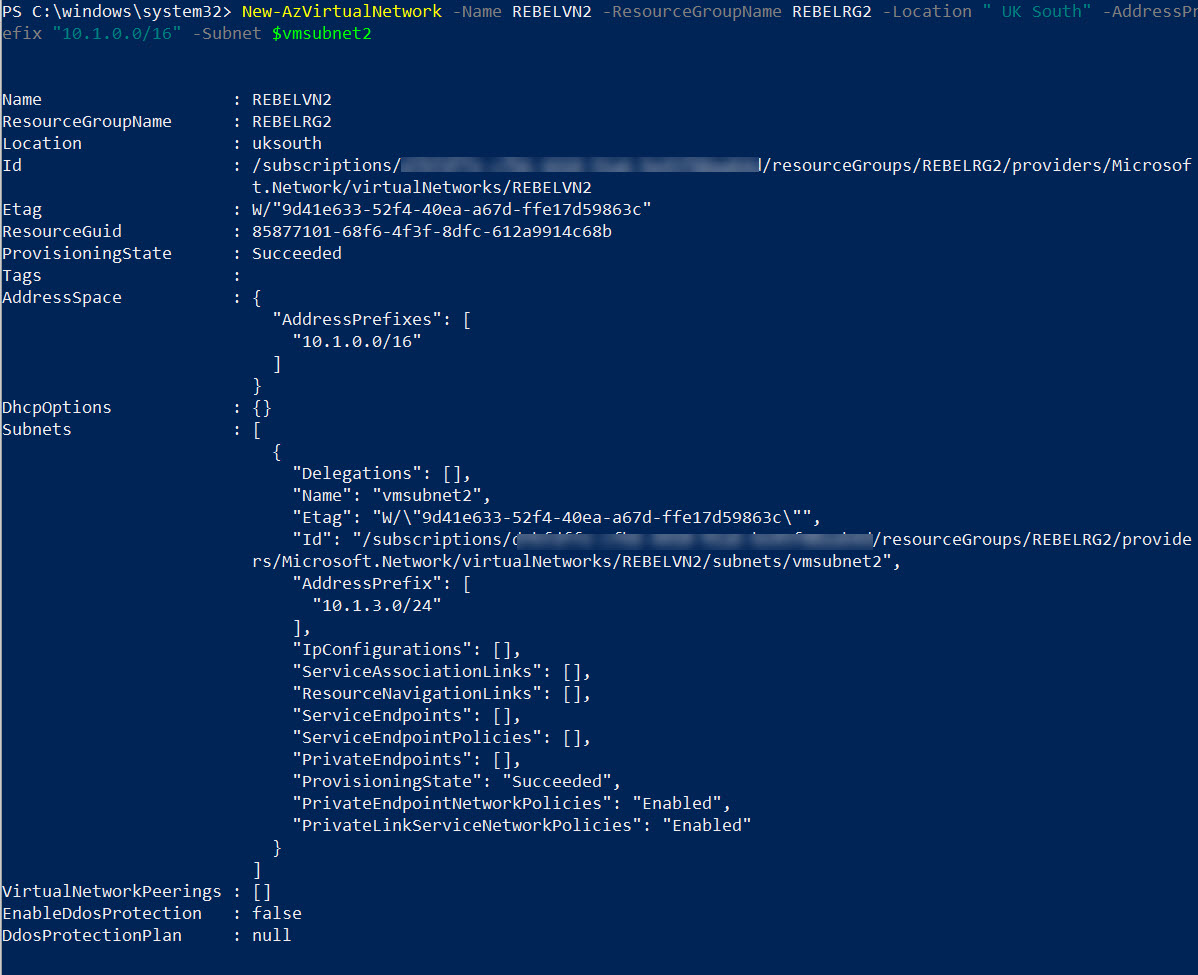 [Read more…] about Step-by-Step Guide: How to setup Azure Global VNET Peering? (PowerShell Guide)