Last Updated on June 5, 2015 by Dishan M. Francis
Single-Sign-On (SSO) is one of the crucial concerns engineers have when moving in to cloud. This is critical when it comes to hybrid-cloud model. It needs to integrate "already setup" infrastructure with various SaaS applications and IaaS. Users also may connect from different locations as well as via different devices. Microsoft already have Azure AD which give opportunity bring identity management capabilities in to the azure cloud. The Enterprise Mobility Suite (EMS) is designed to help organizations meet complex IT challenges by providing a people-centric IT solution that gives users access to corporate resources from the devices of their choice, while making it easier for IT administrators to securely manage devices, data, and applications across platforms.
EMS is a collection of 3 Azure individual offerings brought together in a single SKU namely; Microsoft Intune, Azure Active Directory Premium and Azure Rights Management Services. EMS provides a significant discount over these individual products and is a comprehensive cloud solution that provides hybrid identity and access management, Device and Application management and rights protection. This solution is targeted at hybrid cloud customers and O365 users.
Following slide show the main 3 characteristics of EMS.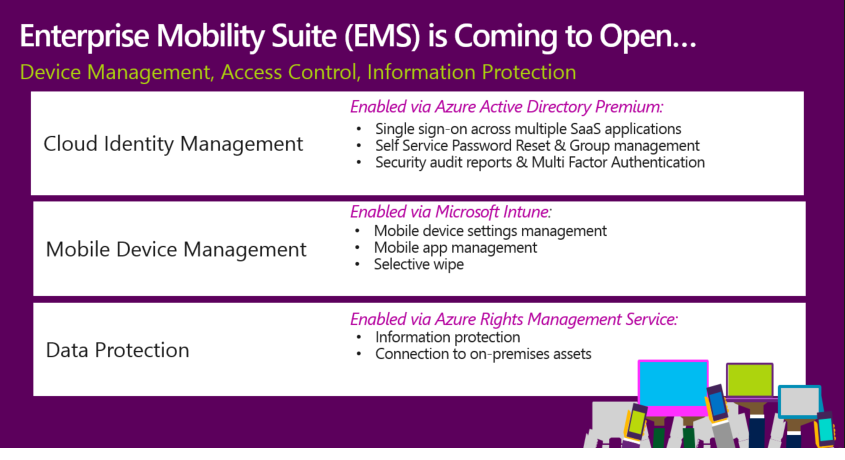 You can get more details about each feature by watching fallowing videos.
Hybrid Identity Management Demo

Why Microsoft?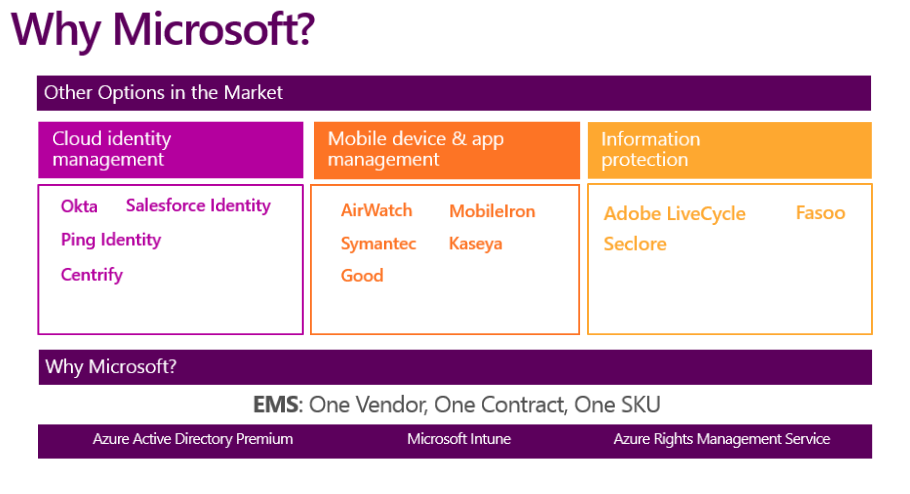 The Enterprise Mobility Suite simplifies the procurement process—all you need is one vendor, one contract, and one SKU.
By contrast competitive offerings require customers to stich together a patchwork of products from multiple vendors. This generally a more expensive approach, a more complex acquisition with different licensing models, and often involves using products with overlapping and incompatible capabilities.
Offering Enterprise Mobility Suite (EMS) through Open programs will enable sales of additional Microsoft Cloud services through Distributors and their Reseller channels, targeting small and medium businesses (25-250 PCs.)
Starting March 1, 2015 Enterprise Mobility Suite Full user license will be available in the Volume Licensing Updated Open Programs, Open License, Open Value, and Open Value Subscription. This offer is for customers wishing to purchase the Enterprise Mobility Suite without requiring an underlying Core CAL or Enterprise CAL.
Where to Start?

You can get more details about EMS using http://www.microsoft.com/en-us/server-cloud/enterprise-mobility/Overview.aspx
You can get pricing from http://www.microsoft.com/en-us/server-cloud/enterprise-mobility/pricing.aspx
You can find some great articles on http://blogs.technet.com/b/em/