Last Updated on November 7, 2017 by Dishan M. Francis
System Center Operation Manager (SCOM) is the Microsoft solution to monitor application and systems health in detail. It applies to Active Directory monitoring as well. Using relevant management packs, it can monitor health of active directory services and its activities. Microsoft introduced Operation Management suite to bring monitoring to the next level with advanced analytics technologies. SCOM was more in to monitoring applications, services and devices running on-premises. But OMS work with on-premises, cloud only or hybrid cloud environments.
OMS Benefits
Minimal Configuration and Maintenance – If you worked with SCOM before you may know how many different components we need to configure such as management servers, SQL servers, Gateway Servers, Certificate Authority etc. But with OMS all we need a subscription and initial configuration of monitoring agents or gateway. No more complex maintenance routings either.
Scalable – Latest records from Microsoft shows OMS is already using by more than 50k customer. More than 20PB data been collected more than 188 million queries been run for a week. With cloud based solution we no longer need to worry about the resource when we expanding. Subscription is based on the features and the amount of data you upload. You do not need to pay for the compute power. I am sure Microsoft no-way near running out of resources!!
Integration with SCOM – OMS fully supported to integrate with SCOM. It allows engineers to specify which systems and data should be analyze by OMS. It also allows to do smooth migration from SCOM to OMS in stages. In integrated environment SCOM works similar to a gateway and OMS do queries through SCOM. OMS and SCOM both uses same monitoring agent (Microsoft Monitoring Agent) and there for client side configuration are minimum.
Note – Some OMS components such as Network Performance Monitoring, WireData 2.0, Service Map required additional agent files, system changes and direct connection with OMS.
Frequent Features Updates –Microsoft releases System center version in every four years' time. But OMS updates and new services are coming more often. It allows Microsoft to address industry requirements quickly.
OMS in Hybrid Environment
In a hybrid environment, we can integrate on-premises system with OMS using three methods.
Microsoft Monitoring Agent – Monitoring agent need to install in each and every system and it will directly connect to OMS to upload the data and run queries. Every system need to connection to OMS via port 443.
SCOM – If you already have SCOM installed and configured in your infrastructure, OMS can integrate with it. Data upload to OMS will be done from SCOM management servers. OMS runs the queries to the systems via SCOM. However, some OMS feature still need direct connection to system to collect specific data.
OMS gateway – Now OMS supports to collect data and run queries via its own gateway. This works similar to SCOM gateways. All the systems do not need to have direct connection to OMS and OMS gateway will collect and upload relevant data from its infrastructure.
What is in there for AD Monitoring?
In SCOM environment we can monitor active directory components and services using relevant management packs. It collects great amount of insight. However, to identify potential issues, engineers need to analyze these collected data. OMS provide two solution packs which collect data from Active Directory environment and analyze those for you. After analyzing it will visualize it in user friendly way. It also provides insight how to fix the detected problems as well as provide guidelines to improve the environment performance, security and high availability.
AD Assessment – This solution will analyze risk and health of AD environments on a regular interval. It provides list of recommendations to improve you existing AD infrastructure.
AD Replication Status – This solution analyzes replication status of your Active Directory environment.
In this section I am going to demonstrate how we can monitor AD environment using OMS. Before we start we need,
1) Valid OMS Subscription – OMS has different level of subscriptions. It is depending on the OMS services you use and amount of data uploaded daily. It does have free version which provides 500mb daily upload and 7-day data retention.
2) Direct Connection to OMS – In this demo I am going to use the direct OMS integration via Microsoft Monitoring Agent.
3) Domain Administrator Account – in order to install the agent in the domain controllers we need to have Domain Administrator privileges.
Enable OMS AD Solutions
1) Log in to OMS https://login.mms.microsoft.com/signin.aspx?ref=ms_mms as OMS administrator
2) Click on Solution Gallery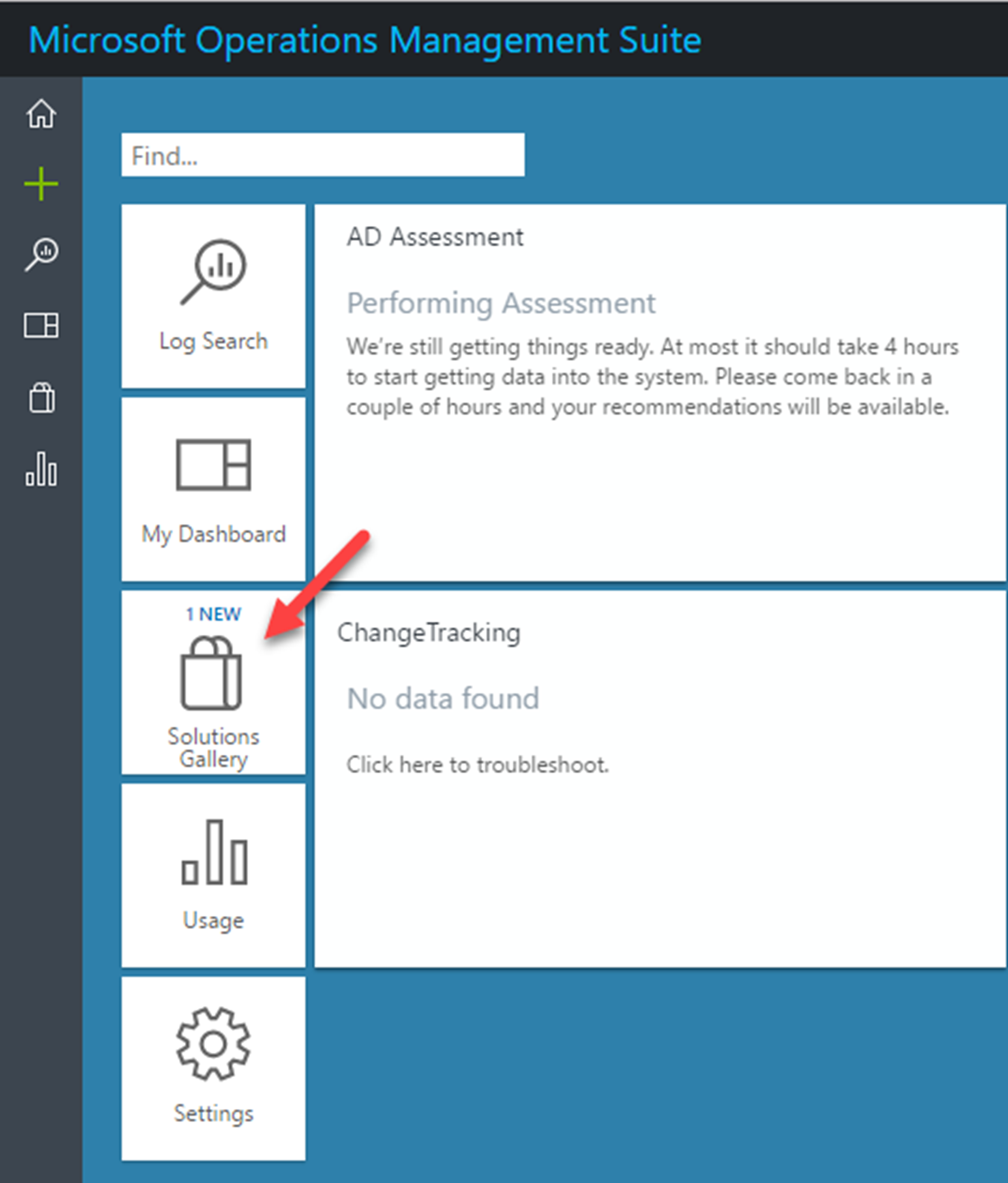 3) By default, AD Assessment solution is enabled. In order to enable AD Replication Status solution, click on the tile from the solution list and then click on Add.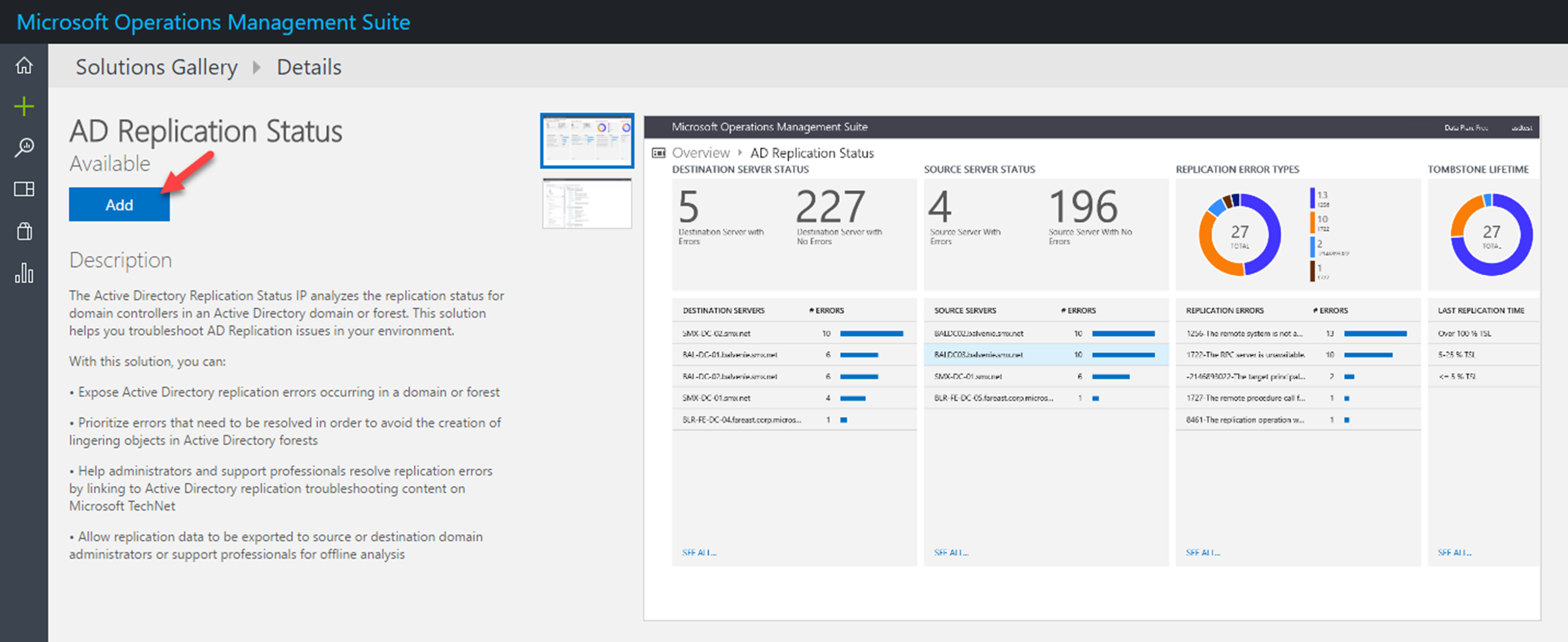 Install OMS Agents
Next step of the configuration is to install monitoring agent in domain controllers and get them connected with OMS.
1)
Log in to the domain controller as domain administrator
3)
Go to
Settings > Connected Sources > Windows Servers >
click on
Download Windows Agent (64bit)
. it will download the monitoring agent to the system.

4)
Once it is download, double click on the setup and start the installation process.
5)
In first windows of the wizard click
Next
to begin the installation.
6)
In next window read and accept the licenses terms.
7)
In next window, we can select where it should install. If there is on changes click
Next
to Continue.
8)
In next window, it asks where it will connect to. In our scenario, it will connect to OMS directly.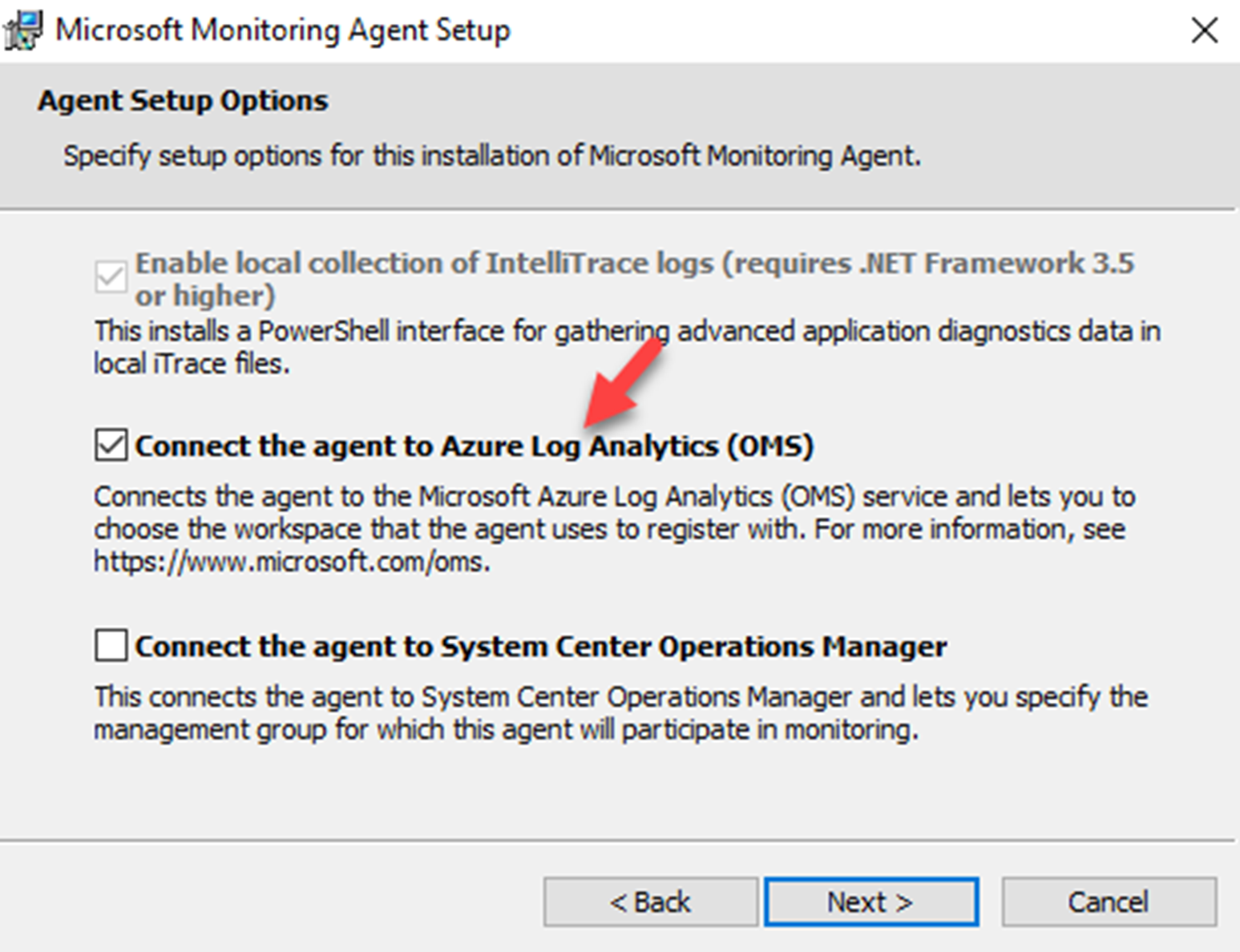 9)
In next window, it asks about OMS Workspace ID and Key. it can be found in OMS portal in
Settings > Connected Sources > Windows Servers
. if this server is behind proxy server, we also can specify the proxy setting in this window. Once relevant info provided click on
Next
to continue.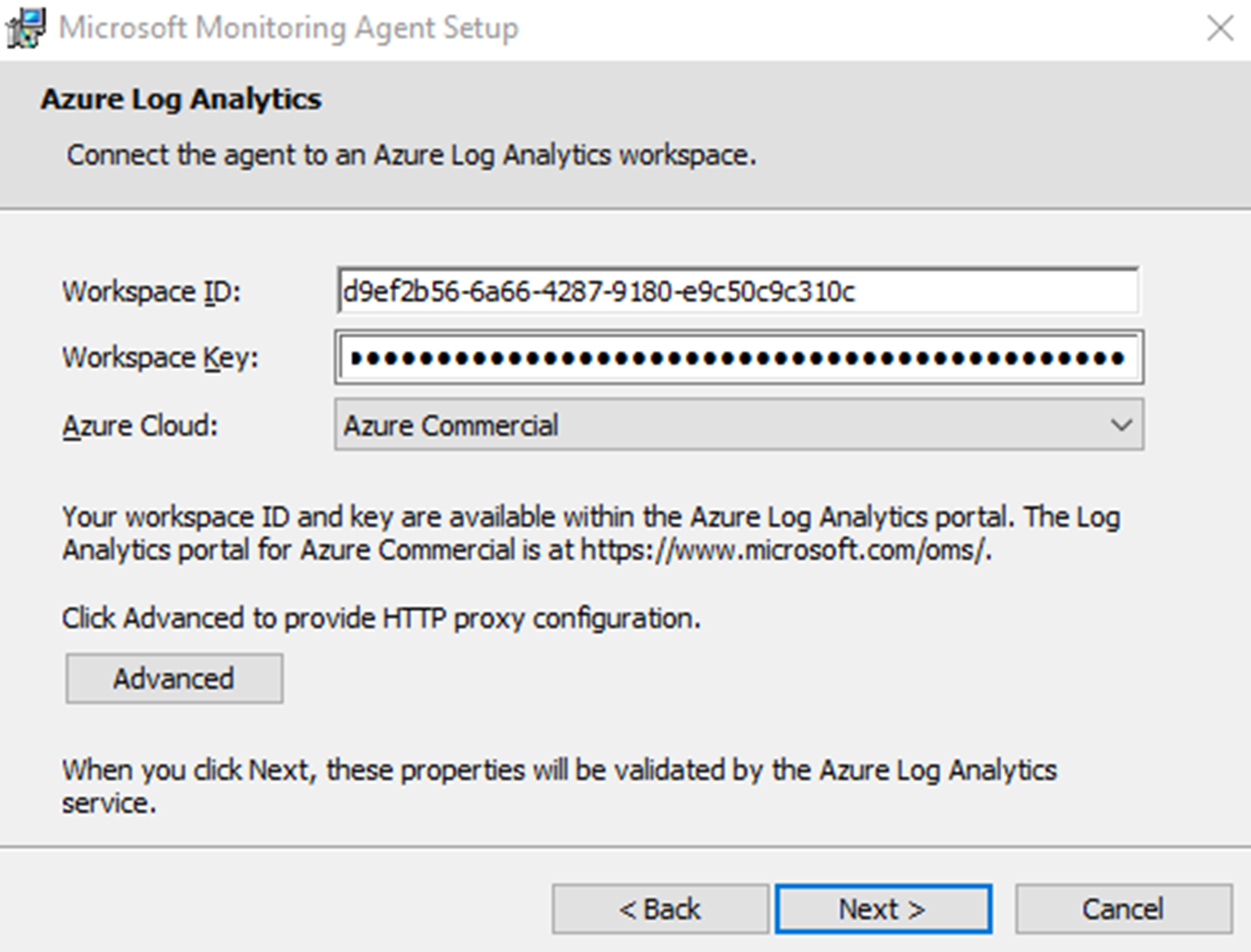 10)
In next window, it asks how I need to check agent updates. It is recommended to use windows updates option. Once selection has made, Click
Next
.
11)
In confirmation page, click
Install
to begin the installation.
12)
Follow same steps for other domain controllers.
13)
After few minutes, we can see the newly added servers are connected as data source under
Settings > Connected Sources > Windows Servers

View Analyzed Data
1)
After few minutes, OMS will start to collect data and virtualize the findings.
2)
To view the data, log in to OMS portal and click on relevant solution tile in home page.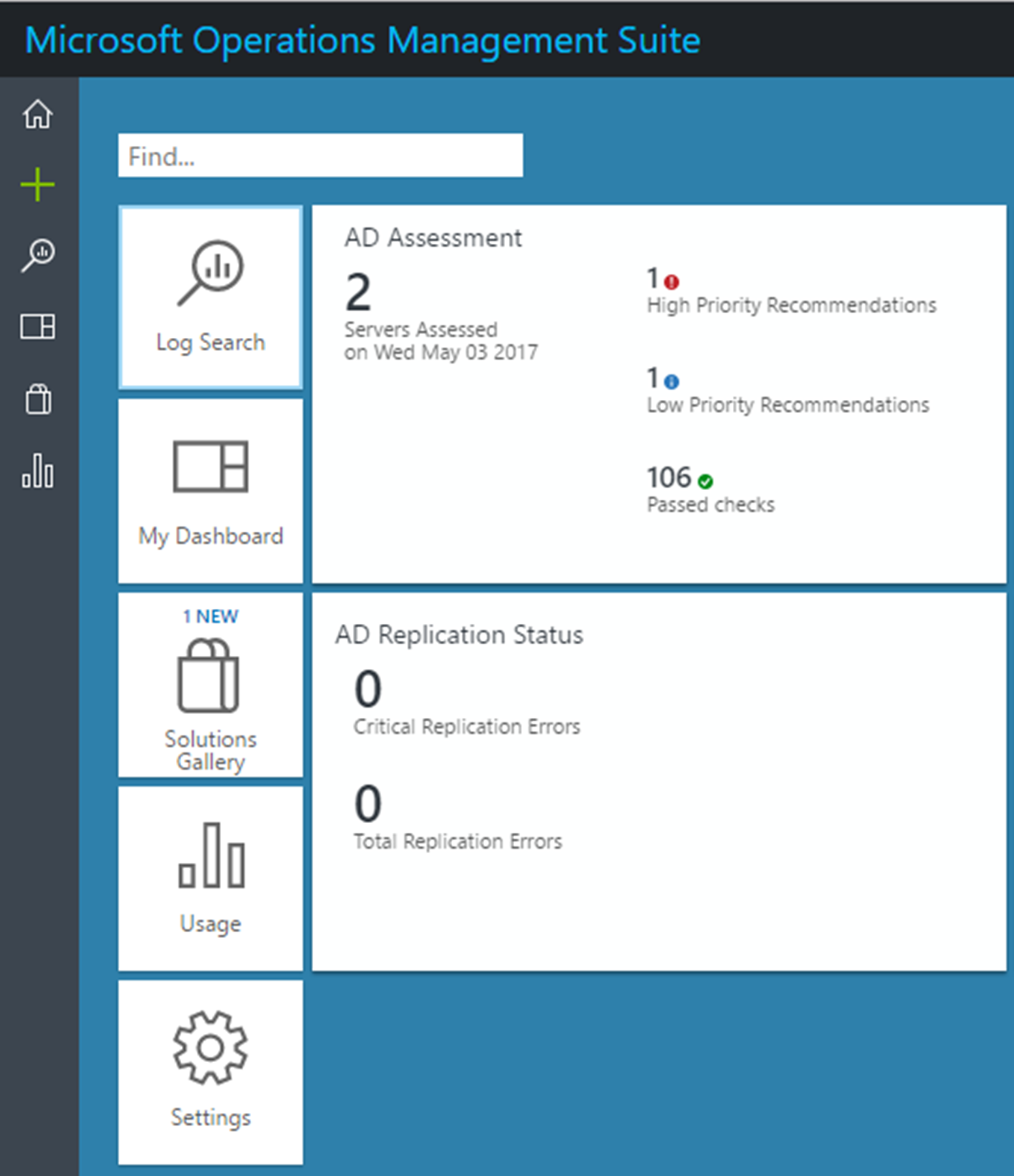 3)
Once click on the tile it brings you to a page where it displays more details about its findings.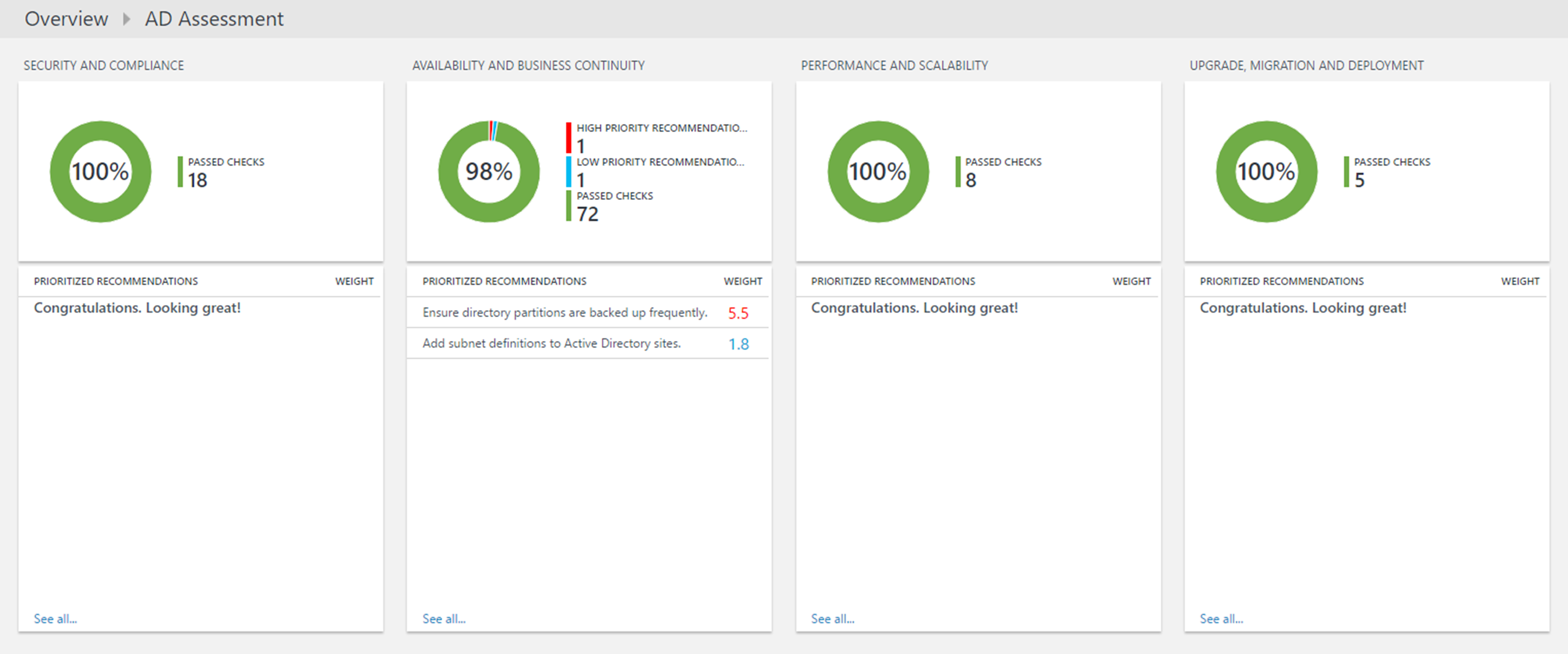 4)
As I explain before, it not only displays errors. It also gives recommendation on how to fix the existing issues.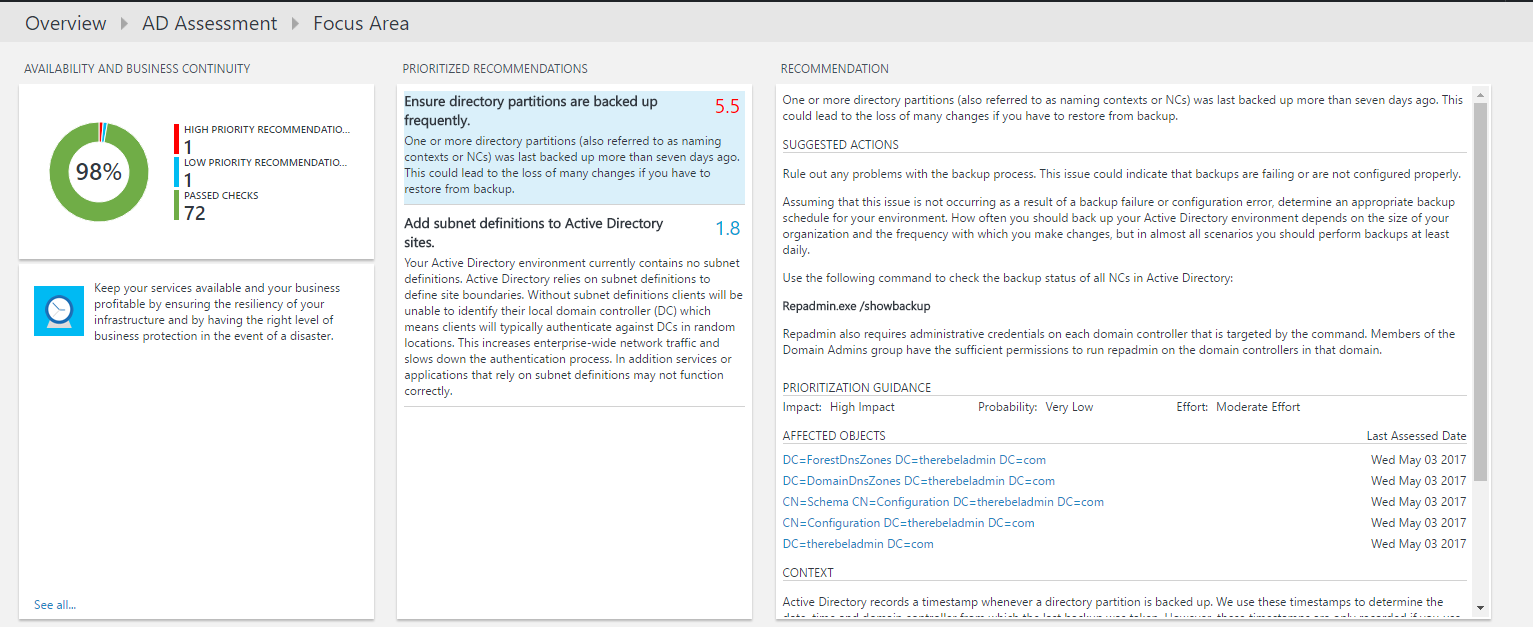 Collect Windows Logs for Analysis
Using OMS, we also can collect windows logs and use OMS analyzing capabilities to analyze those. When this enabled, OMS space usage and bandwidth usage on organization end will be higher. In order to collect logs,
2)
Go to
Settings > Data > Windows Event Log
s
3)
In the box, you can search for the relevant log file name and add it to the list. We also can select which type of events to extract. Once selection is made click
Save
.

4)
After few minutes, you can start to see the events under log search option. In their using queries we can filter out the data. Also, we can setup email alerts based on the events.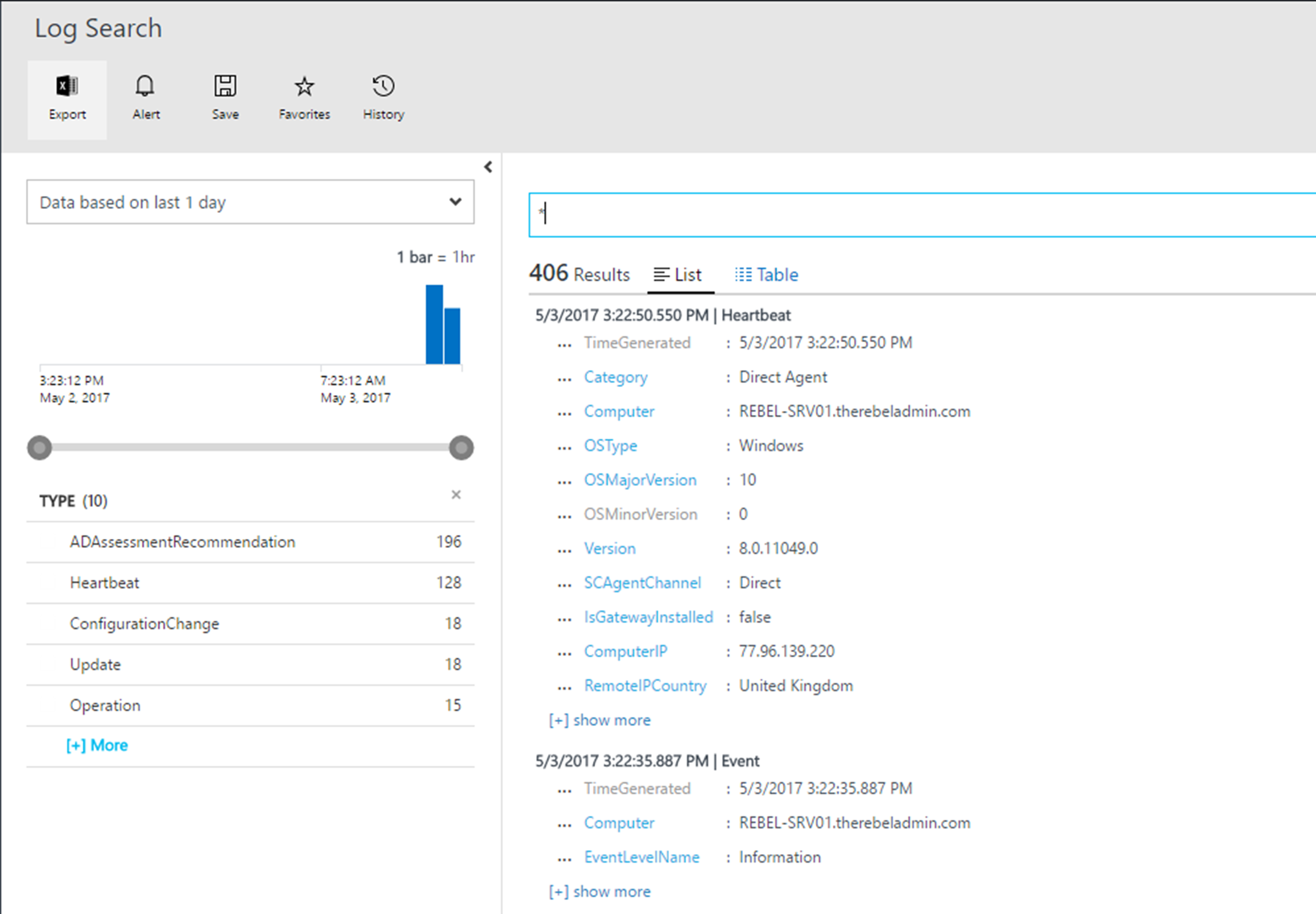 I believe now you have a basic knowledge on how to use OMS to monitor AD environment. There is lot of things we can do with OMS and I will cover those in future posts.
This marks the end of this blog post. If you have any questions feel free to contact me on
rebeladm@live.com
also follow me on twitter
@rebeladm
to get updates about new blog posts.