Last Updated on June 3, 2015 by Dishan M. Francis

Microsoft windows server 2003 extended support ends on July 14th, 2015. Microsoft ended its mainstream support on July, 2010. It's been 5 years since then but there are lot of organizations which uses windows server 2003 on their operations. If it's same for your organization, it is not too late to build up the migration plan. This post will help you to determine why need to upgrade, how to plan migration properly.
Why *%4#@*!?
If your organization running smooth operations still with windows server 2003 infrastructure, "Why we migrate?" is the question everyone will ask when you submit your migration plan. Because migration still cost your organization $$$. This is one of major reason to see windows 2003 server still in operation. Especially in Non-IT business it is very difficult to justify the benefits over the cost as IT operations gets lower budget allocation. Apart from that one common question I get in presentations "Is windows server 2003 bad?" answer to that's question is straight forward, NO!!!!. Windows server 2003 was a perfect product but it was in its era, at the year 2003 people were not talking about "Cloud Computing", people were not using "Virtualization" much in operations. "SaaS (Software as a Service), IaaS (Infrastructure as a service)" was still new term to industry. "Security" concerns were relatively low with modern computing. So it was perfect product for "That" time but not for "This" time.
What will happen if we not upgrade?
No Updates – Back in early 20's, we gets operating system updates rarely, but now a days it's almost daily. It's because every day new threats will find, so these patches fixes those security holes in your infrastructure, also these includes new enhancements, bug fixes for the existing services or applications. So updates are crucial these days, No updates for windows server 2003 means Microsoft will not test or monitor widows 2003 against new threats or will not invest on enhancing services or applications of windows server 2003.
No Support – You will not be able to call in Microsoft Support lines regarding windows server 2003 issues any more. Even its critical operation downtime, you will need to fix issues your own or hire consultants or engineers to help. So its increases IT operation cost anyway.
No Compliance – Businesses which handles regulated data such as PCI (payment card industry) may become non-compliant which can cause being cut off from trading partners. Because to keep their system protected, they need to keeps the compliance standards.
No Application Support – Lots of software companies already released applications, software which not support on windows server 2003 anymore. So sooner you will not get benefits from those new versions due to compatibility issues. Most of software providers also ends their support on older versions of the applications to reduce lengthy support cycles. So running an unsupported application for operations add risks.
No compatibility with Modern day computing – Microsoft Azure is one of the best example for this. You can't re-host windows 2003 server 32bit version images in azure environment. But majority of the windows server 2003 installations are 32 bit. Also in a hybrid-cloud infrastructure it will be very difficult to integrate with modern applications and services compare to infrastructures runs with windows server 2008 or 2012. Upcoming windows server 2016 also will not supported for windows 2003 functional levels.
Why Windows server 2012 R2?
Well if you are migrating, unless you have critical reason you should not migrate to windows server 2008 or R2. Windows server 2016 is already on Technical preview 2 and if you plan long term, definitely you should go to windows server 2012 R2.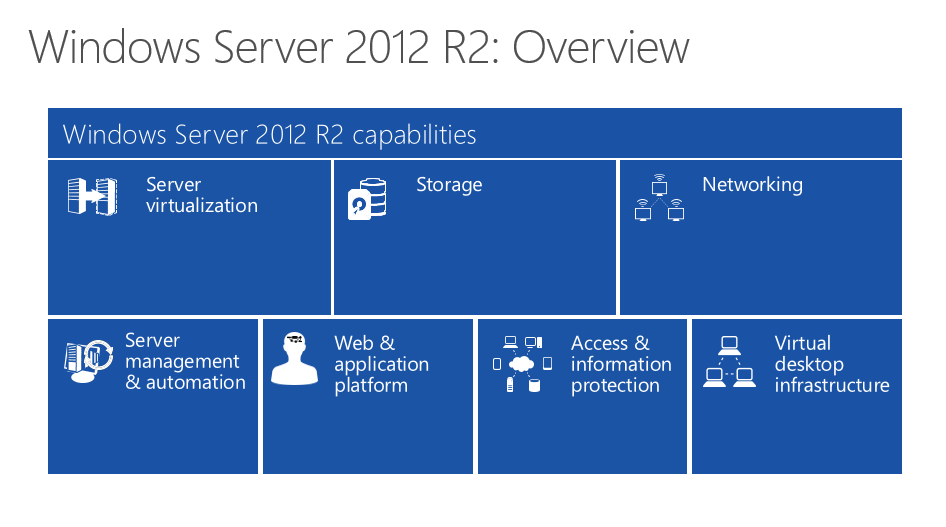 Windows Server 2012 R2 delivers significant value around the following seven key capabilities:
1. Server virtualization. Windows Server 2012 R2 is a virtualization platform that has helped organizations of all sizes realize considerable cost savings and operational efficiencies. With industry leading size and scale, Hyper-V is the platform of choice for you to run your mission critical workloads. Hyper-V in Windows Server 2012 R2 greatly expands support for host processors and memory. Using Windows Server 2012 R2, you can take advantage of new hardware technology, while still utilizing the servers you already have. This way you can virtualize today, and be ready for the future.
2. Storage. Windows Server 2012 R2 was designed with a strong focus on storage, from the foundation of the storage stack up, with improvements ranging from provisioning storage to how data is clustered, transferred across the network, and ultimately accessed and managed. Windows Server 2012 R2 offers a wide variety of high-performance, highly available storage features and capabilities, while taking advantage of industry-standard hardware for dramatically lower cost.
3. Networking. Windows Server 2012 R2 makes it as straightforward to manage an entire network as a single server, giving you the reliability and scalability of multiple servers at a lower cost. Automatic rerouting around storage, server, and network failures enables file services to remain online with minimal noticeable downtime. What's more, Windows Server 2012 R2 – together with System Center 2012 R2 – provides an end-to-end Software Defined Networking solution across public, private, and hybrid cloud implementations.
4. Server management and automation. Windows Server 2012 R2 enables IT professionals to meet the need for fast, continuous and reliable service within their datacenters by offering an integrated platform to automate and manage the increasing datacenter ecosystem. Windows Server 2012 R2 delivers capabilities to manage and automate many servers and the devices connecting them, whether they are physical or virtual, on-premises or off, and using standards-based technologies.
5. Web and application platform. Windows Server 2012 R2 builds on the tradition of the Windows Server family as a proven application platform, with thousands of applications already built and deployed and a community of millions of knowledgeable and skilled developers already in place. Windows Server 2012 R2 can offer your organization even greater application flexibility. You can build and deploy applications either on-premises or in the cloud—or both at once, with hybrid solutions that work in both environments.
6. Access and information protection. With the new capabilities in Windows Server 2012 R2, you will be able to better manage and protect data access, simplify deployment and management of your identity infrastructure on-premises and across clouds, and provide your users with more secure remote access to applications data from virtually anywhere and any device.
7. Virtual desktop infrastructure. With Windows Server 2012 R2, Microsoft is making it even easier to deploy and deliver virtual resources across workers' devices. VDI technologies in Windows Server 2012 R2 offer easy access to a rich, full-fidelity Windows environment running in the datacenter, from virtually any device. Through Hyper-V and Remote Desktop Services, Microsoft offers three flexible VDI deployment options in a single solution: Pooled Desktops, Personal Desktops, and Remote Desktop Sessions (formerly Terminal Services).
On your mark, get set, go!!!!
Microsoft recommends 4 steps plan for migration.

Discover – Before migration it is important to evaluate and properly make inventory about current running system. You need to identify the server roles you need to migrate. Also important to check how you can migrate the current running applications, services. For ex- CMS, billing system, websites, etc. some of these applications, especially custom made applications may require upgrades, support from vendor to migrate to new system. Also in this stage important to evaluate the hardware upgrades or new implementations which will required.
You can use Microsoft Assessment and Planning Toolkit to inventory and assess current infrastructure setup.
Asses – in this stage we need to categorize the applications, roles and workload based on type, importance and complexity. We need to evaluate the risks, concerns involves with the migration. For ex-operation downtime, impact on sales, licenses cost, software upgrade costs, man power etc.
Target – in this step we need to decide the migration destination for each application or services. It can be in same network, datacenter facility, and Azure or hybrid-cloud setup. For ex- if company uses exchange email services we can migrate that role to office365. Following links will helpful to decide the target.

Microsoft Azure one-month Trial

Migrate – This is where action begins. Based on outcome of previous steps it is time to start the actual migration. In below you can find some of articles I wrote about roles migration. You also can get further training on windows server 2012 on here.
Step-By-Step: Migrating Windows Server 2003 FSMO Roles To Windows Server 2012 R2

Step-By-Step: Migrating The Active Directory Certificate Service From Windows Server 2003 to 2012 R2

Step-By-Step: Migrating DHCP From Windows Server 2003 to 2012 R2