Last Updated on May 20, 2015 by Dishan M. Francis
"Cloud", the most common term now in IT, its everywhere . Companies which provides IT services bringing their products and services in to the cloud rapidly. "Hosting services" was the first industry affect with it and now its spread to even small companies, individual professionals. With introduce of everyday products like Microsoft office365 every one start to understand the benefits of the "cloud". Some organizations are use their own private cloud while some are completely move in to public cloud services.
One of the main concern people had about cloud was how they can bring there infrastructure services, resources, applications without impact to productivity. For example most organizations uses Single-Sign-On (SSO) to reduce the complexity of the authentication and authorization process. After we move organization's resources, products, services to cloud if SSO do not work it still preventing full benefits of the cloud in end user prospective. The same time it will make impact on productivity directly. This access control and authentication concerns are more applying in to "Hybrid Cloud" systems. In Hybrid cloud some resources, services, application will run on-premises and some will be run from public cloud or private cloud setup in data center. This is the most commonly used cloud model in industry.
One of the solution used to address this is federation services. But issue is not every application or products uses same standards, protocols for identity management. As we know most of available products supports integration with AD services. Even Microsoft gives relevant tools, techniques to succeed with SSO on application development. So if you have working infrastructure system with all company requirement, how you convince management to move in to cloud system which will needs to deal with identity and access issues?
Well, Microsoft has found the solution for this. "Microsoft cloud – Azure" and windows server 2012 allows to extend the active directory in to the cloud. It allows to use claim based authorization. We can use windows azure AD as the identity store for the hybrid cloud and easily integrate other systems such as web portals, email system, crm, non-Microsoft apps. Also it can sync with the on-premises windows server active directory using "DirSync (Windows Azure Active Directory Sync Agent)" with AD FS (Active Directory Federation Services).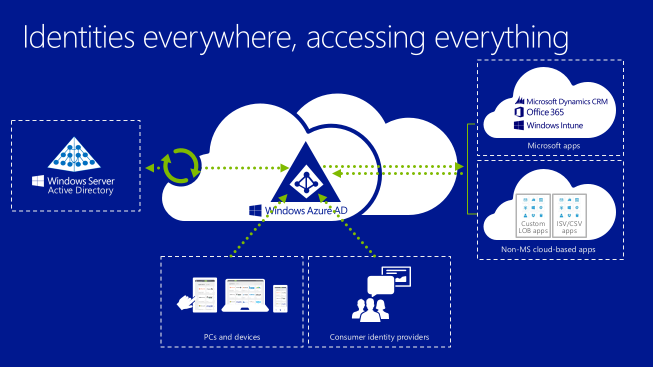 In next posts let's see how we can configure Azure AD and how it works with integration. If you have any question about post feel free to contact me on rebeladm@live.com
Image Source: http://blogs.technet.com/cfs-file.ashx/__key/communityserver-blogs-components-weblogfiles/00-00-00-98-54-metablogapi/clip_5F00_image001_5F00_1E3725C4.png