I wrote my first article about Windows Virtual Desktop when it was in the preview stage. There were few releases after that and some of the content of that original post is no longer relevant. So, I thought it is time to release a new article to avoid conflicts.
Windows Virtual Desktop is a cloud-based desktop and app virtualization service. If you ever worked with on-premises VDI solutions such as Microsoft RDS or Citrix, you may already know how much planning, management involve with it. It is costly as performance & availability of the solution depend on so many things such as networking, hardware resources, skills, connection, etc. But now with Windows Virtual Desktop, we can simply set up VDI solution with few clicks. With COVID-19 global pandemic, businesses had to allow their employees to work from home. With the help of Windows virtual desktop service, a lot of businesses were able to expand VDI to address the demand pretty quickly compared to other traditional on-premises solutions.
What is new on Windows Virtual Desktop Spring 2020 update?
• Windows Virtual Desktop is now integrated with the Azure portal. So, we can set up everything using the Azure portal. No PowerShell required.
• With the previous version, we were only able to publish RemoteApps and Desktops to individual users. But now we can publish to Azure Active Directory groups.
• You're no longer required to complete Azure Active Directory (Azure AD) consent to use Windows Virtual Desktop. In the Spring 2020 update, the Azure AD tenant on your Azure subscription authenticates your users and provides RBAC controls for your admins.
• The earlier version of the Windows Virtual Desktop had four built-in admin roles that you could assign to a tenant or host pool. These roles are now in Azure role-based access control. You can apply these roles to every Windows Virtual Desktop Azure Resource Manager object, which lets you have a full, rich delegation model.
• Host pool deployment is now fully integrated with the Azure Shared Image Gallery. Shared Image Gallery is a separate Azure service that stores virtual machine (VM) image definitions, including image versioning. You can also use global replication to copy and send your images to other Azure regions for local deployment.
Source: https://docs.microsoft.com/en-us/azure/virtual-desktop/whats-new
Windows Virtual Desktop Prerequisites
To use Windows virtual desktop service, we need the following
• Azure Active Directory
• A Windows Server Active Directory in sync with Azure Active Directory. It can be either via Azure AD Connect or Azure AD Domain Services
• An Azure subscription that contains a virtual network that either contains or is connected to the Windows Server Active Directory
• Azure virtual machines for Windows Virtual Desktop service must be Windows Desktop Machines which join the Azure AD using a stranded method or Hybrid AD-join method. It can't be Azure AD-Join.
• Azure virtual machines for Windows Virtual Desktop service only can have following supported x64 operating systems.
 Windows 10 Enterprise multi-session, version 1809 or later
 Windows 10 Enterprise, version 1809 or later
 Windows 7 Enterprise
 Windows Server 2019
 Windows Server 2016
 Windows Server 2012 R2
In this demo, I am going to demonstrate how to publish Desktops using Windows virtual desktop service. Before we start let's see how is my demo environment looks like and what I am trying to achieve.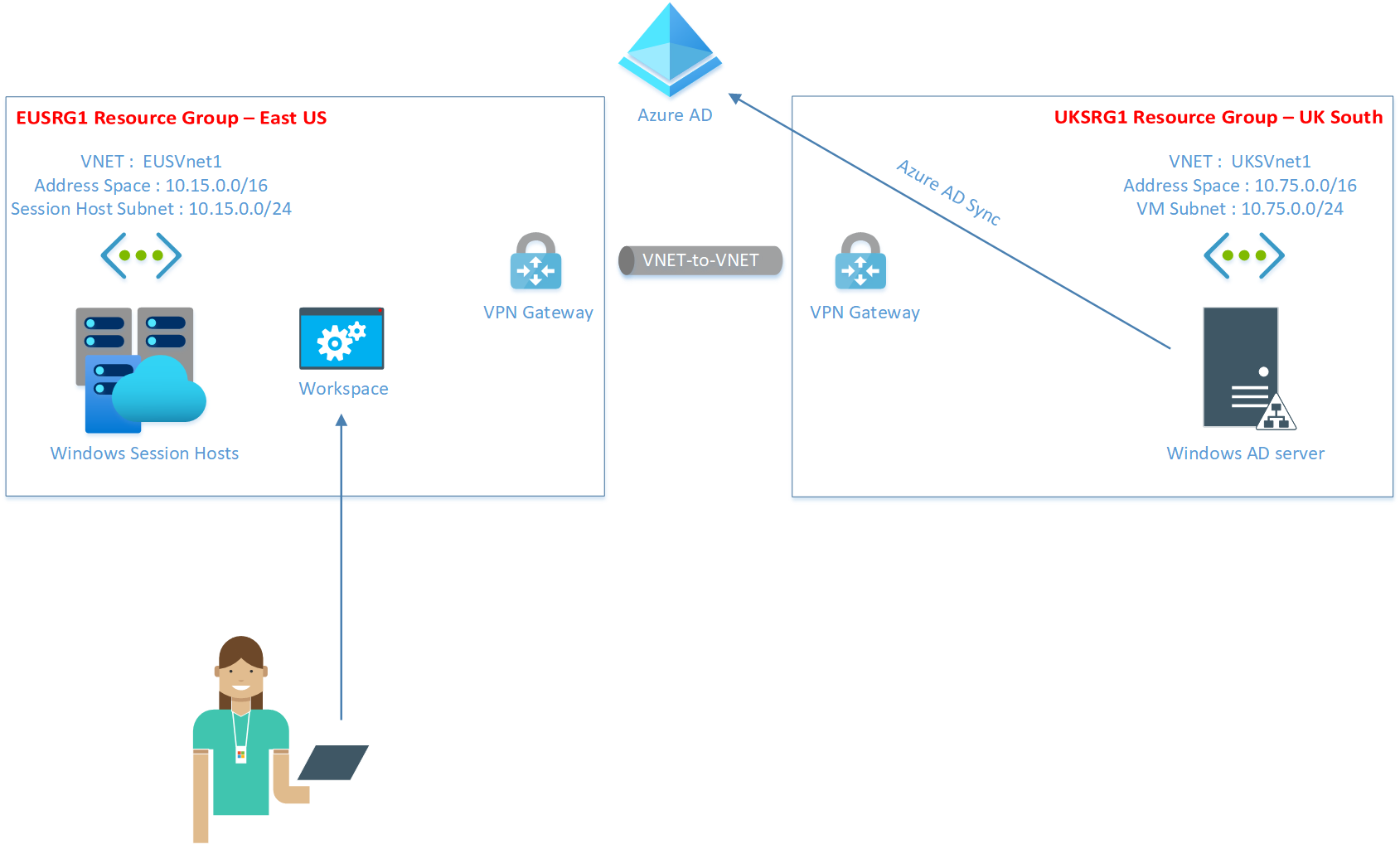 • I have two Resource groups in place. EUSRG1 resource group is in Azure East US region and UKSRG1 resource group is in UK South Azure region.
• Resource in UKSRG1 resource group represents my on-premises infrastructure.
• I have a Windows AD server running in UKSRG1. It is syncing to Azure AD by using Azure AD Connect. I can confirm Azure AD connect sync status is healthy.

• EUSVNet1 and UKSVnet1 are connected using Azure VNet-to-VNet VPN Gateway Connection (https://www.rebeladmin.com/2019/09/step-step-guide-setup-azure-vnet-vnet-vpn-gateway-connection-powershell-guide/). This way session hosts in EUSRG1 can be added to Windows AD using the standard method.
• I will setup windows virtual desktop session hosts and workspace in EUSRG1 resource group. Remote users will connect to windows virtual desktop workspace using public internet.
Modify EUSVnet1 DNS servers
We are going to start the configuration by modifying EUSVnet1's DNS server settings. As per the above setup, EUSVnet1 virtual network can communicate with UKSVnet1 virtual network. But if we try to add a VM running in EUSVnet1 virtual network to Windows AD in UKSVnet1 virtual network, it will fail. This is because a VM in EUSVnet1 virtual network will not know how to find the domain as it is using Azure defined DNS servers. We can't simply modify network adapter settings of the VM and point DNS to the Windows AD server. We have to do it in the virtual network level.
To update DNS server settings for the virtual network,
1. Log in to Azure Portal as Global Administrator
2. Search for Virtual networks in the search box.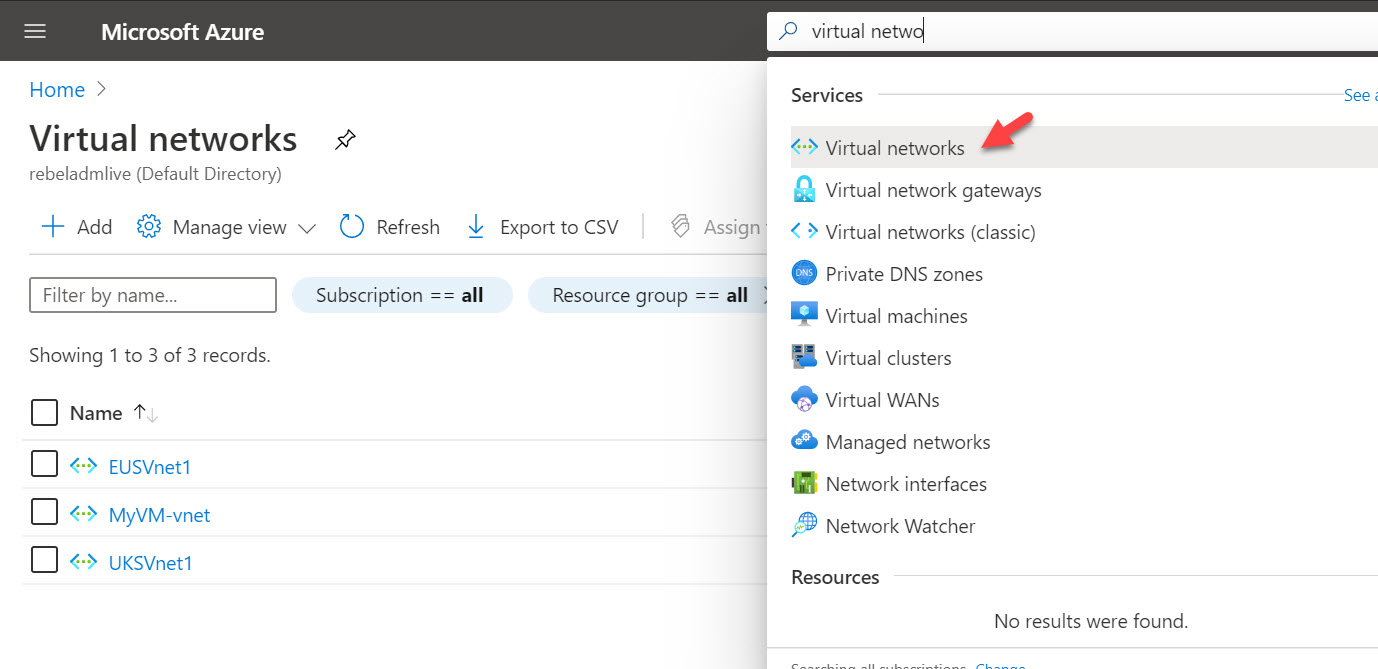 3. From the list of virtual networks, click on EUSVnet1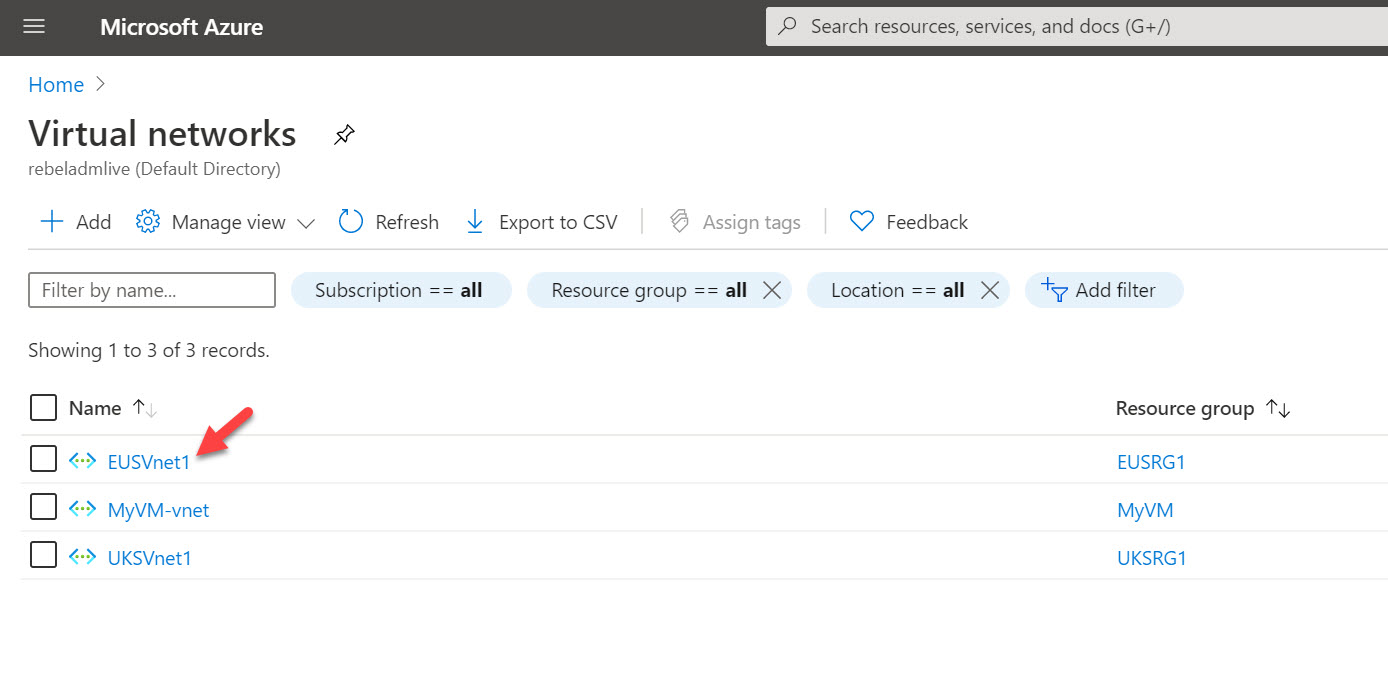 4. In the virtual network properties page, click on DNS servers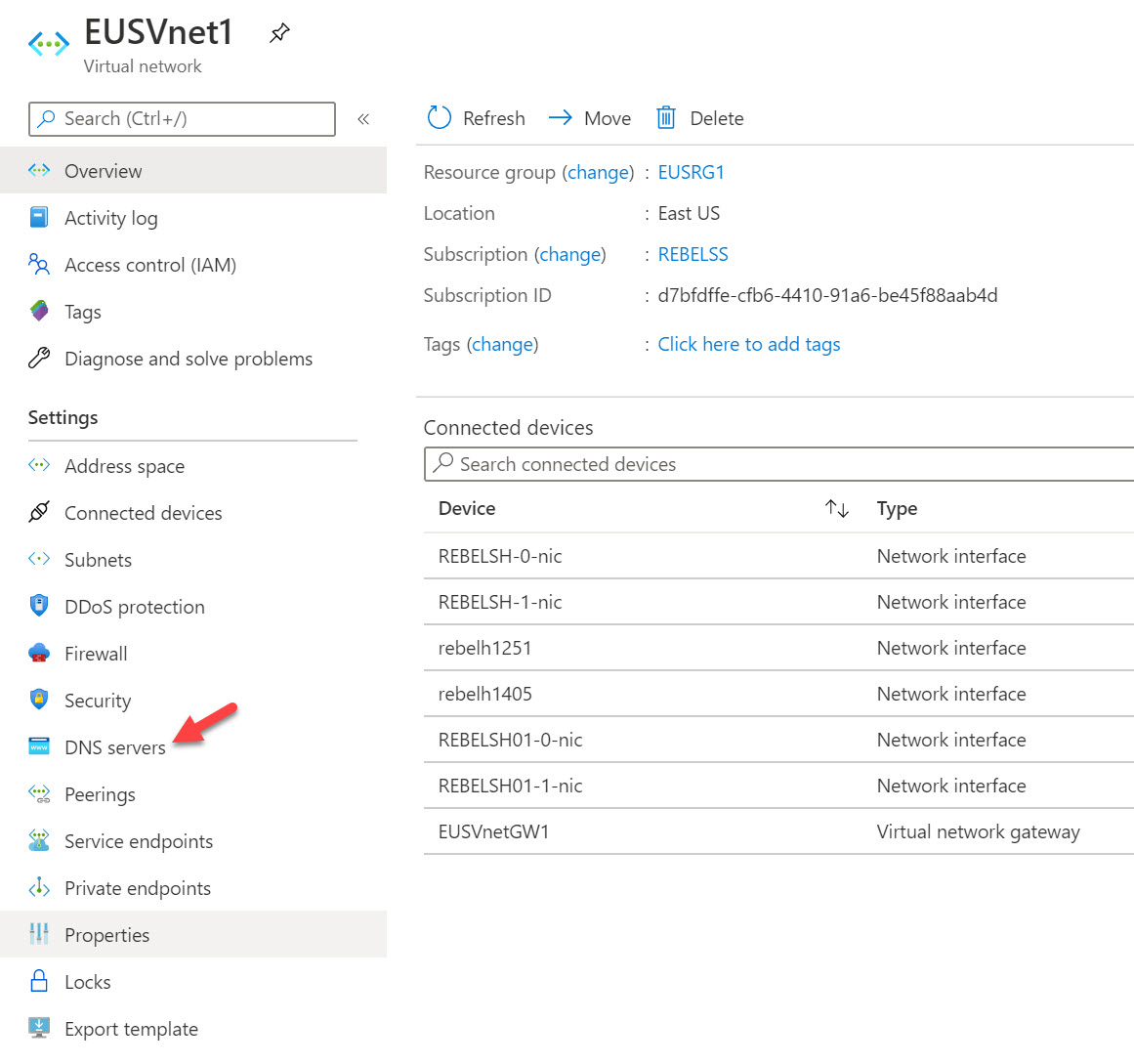 5. Then select Custom to define our DNS server list. In there add the private ip address of the Windows AD server. In my demo setup, it is 10.75.0.4. I also added google DNS 8.8.8.8 as a backup.
Once settings are in place, click on Save to apply the changes.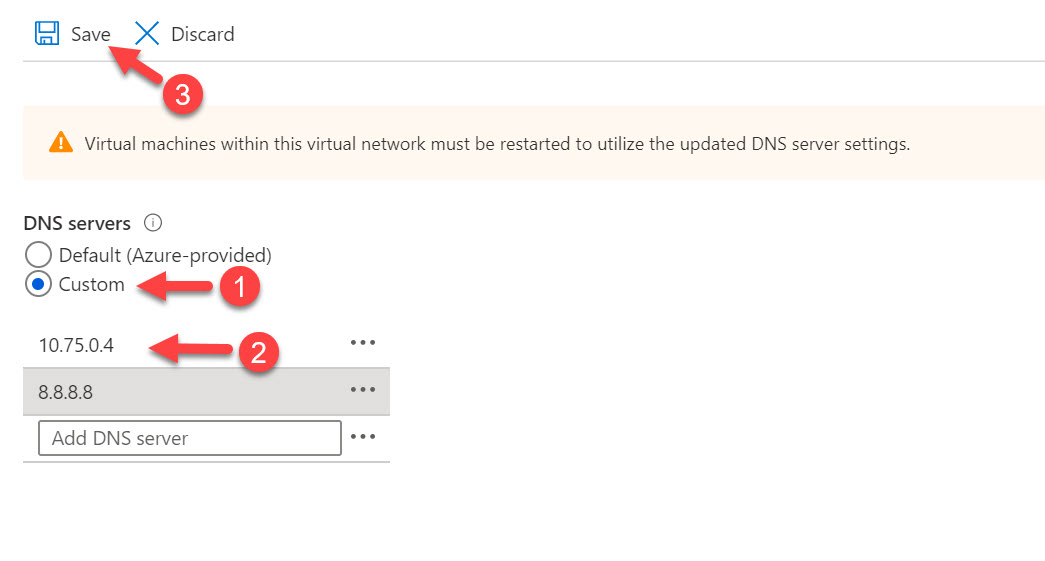 [Read more…] about Step-by-Step Guide to Windows Virtual Desktop (Spring 2020 Release)