Last Updated on June 30, 2020 by Dishan M. Francis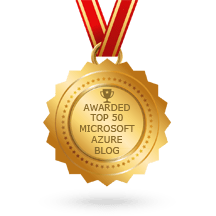 The new decade is started with another achievement! I am glad to announce my blog rebeladmin.com is listed among Top 50 Microsoft Azure Blogs, Websites & Influencers in 2020.
https://blog.feedspot.com/microsoft_azure_blogs/

Feedspot has a team of over 25 experts whose goal is to discover and rank popular blogs, podcasts and youtube channels in several niche categories.
Feedspot Ranking is based on,
 

Relevancy
Industry
Blog post frequency(freshness)
Social media follower counts and engagements
Domain authority
Age of a blog
Alexa Web Traffic Rank and many other parameters
It is a great honour and I take this opportunity to thanks all my blog readers around the globe for their honest feedbacks and trust. That's what made all these possible.